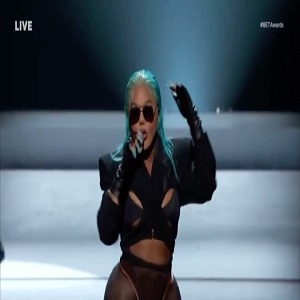 Lil Kim heavily criticized on Twitter after BET Awards performance
Lil' Kim is the blueprint that every female rapper follows. Her style and influence is all over tonight's BET Awards. The big performance of the night was Latto. Because Latto's style is influenced by other female rappers, Lil' Kim influenced that.
Lil' Kim rose to fame as a member of Junior M.A.F.I.A. She was the protégé of The Notorious B.I.G. While a lot of people didn't see Lil' Kim's potential, Biggie did. As Lil' Kim rose to fame, she was more than a rapper. At the height of her career, Lil' Kim was a cultural and fashion icon.
Lil' Kim, however, has gone through a lot of changes over the years. Tonight, Lil' Kim came out for her performance in honor of Diddy. At the 2022 BET Awards, Diddy was gifted with the Lifetime Achievement award. In honor of this, Shyne, Faith Evans, K-Ci & Jojo, Mary J. Blige, Bryson Tiller, Busta Rhymes, Jadakiss, and Sheek Louch performed. During Lil' Kim's set, the fans on Twitter pointed out how different she looked. As a result, Lil' Kim is the top trending topic on Twitter.
Lil Kim heavily criticized on Twitter after BET Awards performance