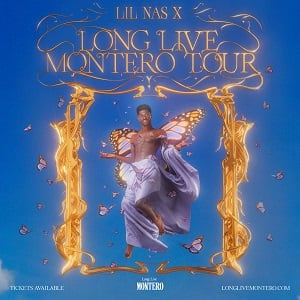 Lil Nas X announces Long Live Montero tour starting on September 6
Lil Nas X was the most controversial artist of 2021. When 2021 began, Lil Nas X launched his project by embracing demonic figures. After Lil Nas X got the attention, he trolled the world with his homosexual lifestyle. In 2019, Lil Nas X came out as an openly gay man.
Lil Nas X ended up getting Boosie to fall for the trolling. As Lil Nas X kept posting controversial material, Boosie kept commenting on it. The beef Boosie had with Lil Nas X became one of 2021's most surprising moments. In the end, Lil Nas X had a ton of promo for his debut album.
Lil Nas X released his album, Montero, to much fanfare. Over the past year, Lil Nas X has continued promoting his album. This morning, Lil Nas X revealed he had his first major headlining tour. On Lil Nas X's social media, he announced the Long Live Montero tour. Lil Nas X will launch the tour towards the end of the summer, on September 6. Ahead of Lil Nas X's tour launch, he will announce the first dates of the tour.
Lil Nas X announces Long Live Montero tour starting on September 6
i'm having my very first tour. and all of u better come or i will cry on instagram live. pic.twitter.com/W3Lt8dP04p

— ✟ (@LilNasX) April 26, 2022