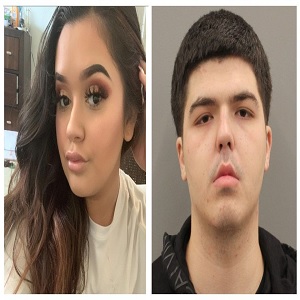 By Bossyy
Hip-HopVibe.com Staff Writer
In Texas, a young man is behind bars, a young lady is dead, and another young man is heartbroken. One young man is dealing with the death of his girlfriend, Julie De La Garza (left). Another young man, Mann Austin Hayes (right), is behind bars, accused of killing her.
Mann Austin Hayes and Julie De La Garza used to date, according to reports. For unmentioned reasons, Hayes and De La Garza ended up breaking up. Reports claim Hayes was a jealous ex and De La Garza's boyfriend said Hayes spotted them driving and began following them.
According to Julie De La Garza's current boyfriend, Mann Austin Hayes began following them, while driving. Hayes is accused of shooting through the back of their truck, striking De La Garza in the head. Initially, Hayes was charged with aggravated assault with a deadly weapon, but that was upgraded, when De La Garza died from the injuries.
Source: Daily Mail
Follow Hip-HopVibe.com on Twitter @HipHopVibe1.