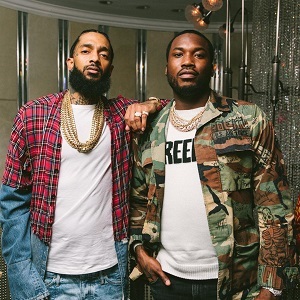 By Prince Hakeem
Hip-HopVibe.com Staff Writer
The impact that Nipsey Hussle was beginning to have was profound. A lot of people talk about it, but Nipsey was living it. Ownership is the only real important aspect and everything Nipsey Hussle preached was about it.
Navigating the music industry is tough, especially for an artist being independent. But, for an indie rapper to blow up, and own it all makes them the big winner. However, Nipsey did partner with Atlantic Records for his debut album, while retaining full ownership.
Last night, more details surrounding Nipsey Hussle's death, and the murder case, surfaced. Eric Holder, the alleged killer, has Chris Darden, prosecutor in the O.J. trial, representing him. As this news circulated, popular rapper, Meek Mill, spoke out, accusing Darden of "self-hate," calling him a "house n*gga."
Read Meek Mill's tweet below:
Source: The Shade Room
Follow Hip-HopVibe.com on Twitter @HipHopVibe1.