Moneybagg Yo announces cancelation of Memphis concert
Last month, Moneybagg Yo kicked off his Larger Than Life Tour. Furthermore, this tour has also featured special guest performers from artists such as Sexyy Red, Finesse2Tymes, Moneybagg's artist YTB Fatt, and Big Boogie.
Moreover, Moneybagg was supposed to conclude his Larger Than Life Tour in his hometown of Memphis, on September 30. However, that date has now suddenly been canceled. Moneybagg went on to reveal this disappointing news on Facebook, as he emphasized that he wasn't the one who canceled the concert, but it was the venue, FedEx Forum.
"I did not cancel s*** FedExForum canceled the show! I spent 300k in production and had MAJOR special guests popping out to help me put on for my city! S*** broke my heart frfr that was the one show I was looking for to I love coming home. I tried everything in my power to assure them that none was gone happen! Unfortunately At the moment we looking for another venue that's large enough will keep u updated thanks for everybody support."
Meanwhile, Moneybagg Yo put out his new "Big Dawg" single with Sexyy Red, on Friday. This will appear on the upcoming CMG album, "Gangsta Art 2," on September 29.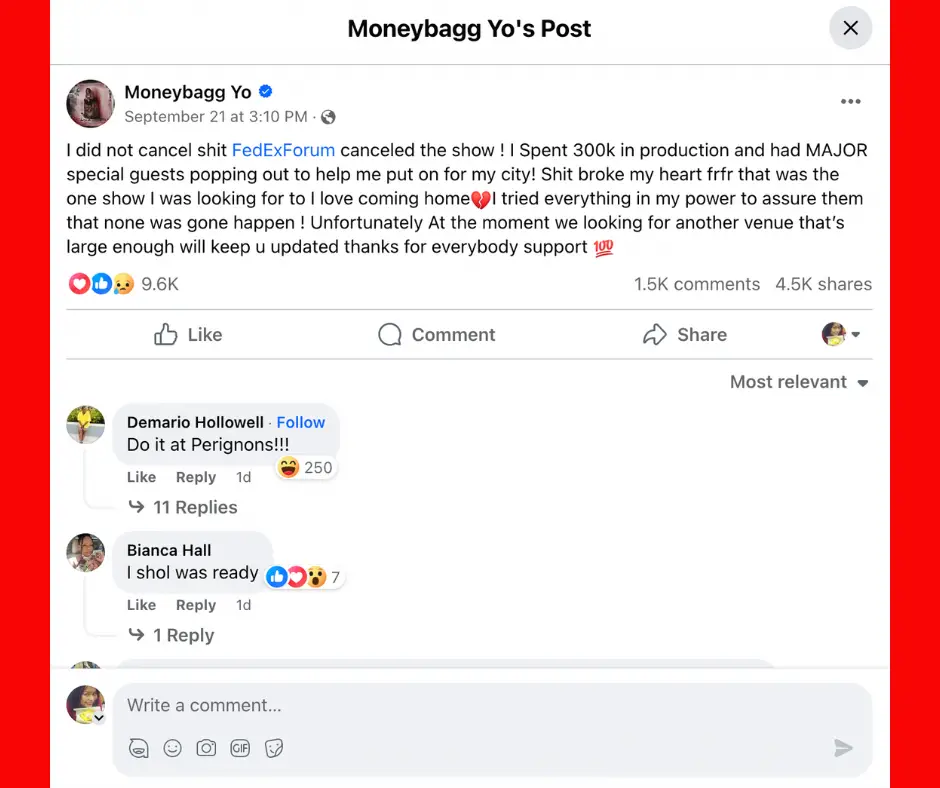 Moneybagg Yo announces cancelation of Memphis concert