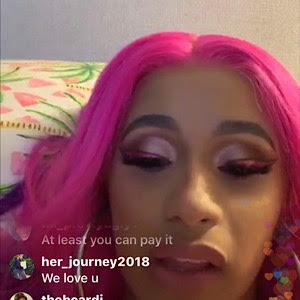 By @MinneeTellsItAll
Hip-HopVibe.com Contributing Writer
Cardi B musically dominated 2018! The "Money" femcee broke records, won awards, got numerous nominations, had back to back features, toured the nation, and every track off her debut album "Invasion Of Privacy" went Gold or higher! Although Cardi may be considered a rookie in the game, realistically she's been hustling for years before her big break. Following such an amazing year, it's only right that Cardi continues her winning streak with more new music!
After her show performance, Cardi took to Instagram Live to talk to her fans about a few things such as Offset and her ideas for music in the new year. In doing so, the Bronx star revealed that she is working on a new album and would love to release it in April, around the one year anniversary of her debut album, Invasion Of Privacy, if all goes accordingly. The excitement doesn't end there though! If for whatever reason things don't necessarily go as planned, there still will be a deluxe edition of her breakout album that is set to drop in 2019.
In the Instagram Live video clip Cardi responds to a fan and says:
"Of course, it's going to be an album in 2019. Hopefully, I can get my album done around the same time that Invasion of Privacy came out. I don't know how possible that's going to be because I feel like I'm going to be extremely, extremely busy…"
Follow Hip-HopVibe.com on Twitter @HipHopVibe1.