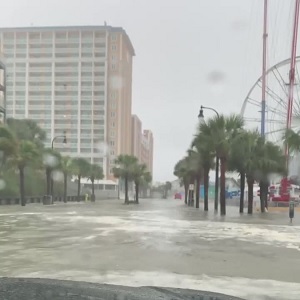 Ocean Blvd in Myrtle Beach is flooded after Hurricane Ian
Myrtle Beach is the current target of Hurricane Ian. On the East Coast, Myrtle Beach is one of the top tourist destinations, especially during the summer. In addition to having beautiful beaches, Myrtle Beach is home to several amusement parks.
The city of Myrtle Beach is a resort city and the metro area is home to nearly 500,000 people. However, the metro is comprised of several coastal communities. Together, they make up the metro. This morning, the Myrtle Beach metro is facing extreme winds and flooding.
In the actual town of Myrtle Beach, Ocean Blvd. is the main highway. On Ocean Blvd., all of the main amusement parks, with the exception of The Pavillion, are located. In addition, most of the biggest hotels in the area are located on "The Boulevard," as most of the locals call it. This afternoon, a local news reporter rode through Ocean Blvd. and shared a devastating scene. The entire Ocean Boulevard, along with 3rd Avenue South are flooded. Meanwhile, the Family Kingdom theme park is two feet under water and water is also starting to get into the rooms.
Ocean Blvd in Myrtle Beach is flooded after Hurricane Ian
3rd Ave S and Ocean Blvd flooded, Withers Swash is flooded and Family Kingdom is under about 2 feet of water right now. The water on 3rd Ave S next to Family Kingdom is beginning to flood into rooms. pic.twitter.com/ZCkqf0xS4i

— Ed Piotrowski (@EdPiotrowski) September 30, 2022