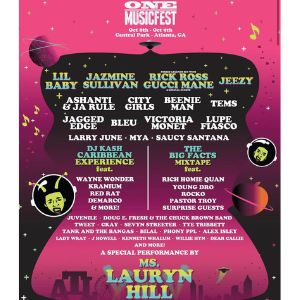 ONE Musicfest releases their 2022 lineup with special guest Lauryn Hill
ONE Musicfest takes place every year in Centennial Olympic Park in Downtown Atlanta. For two days only, all of the Southeast comes out to a nonstop music concert. Partnering with Live Nation Urban and BET per Billboard, this year's event has been described as a "Black Joy Playground."
ONE Musicfest released the 2022 roster via social media, this week. The 2022 lineup includes rap artists like Lil Baby, Juvenile, Rick Ross, Gucci Mane, Jeezy, Lupe Fiasco and Larry June. R&B artists like Jazmine Sullivan, Ashanti, Mya, Wayne Wonder, and Jagged Edge all set to rock the stage.
ONE Musicfest 2022 will also see Saucy Santana and City Girls make their debut, this year. The festival also includes 30 DJs, gaming zones, food trucks, 60 vendors, merchandise and party decks for guests to enjoy. As a result, One MusicFest presents an opportunity for businesses outside of music.
ONE MusicFest has been throwing festivals for several years. As it result, One MusicFest has become a staple within the indie and mainstream music world. Known for bringing together a diverse range of artists from genres, ONE MusicFest also celebrates the influence of Atlanta in music.
ONE MusicFest's previous performers include, Kendrick Lamar, H.E.R, Lil Wayne, The Isley Brothers, Erykah Badu, Ari Lennox, Jhene Aiko, Lil Wayne and Ty Dolla $ign. The concert spans over two days, attracting over 35,000 people in Atlanta and surrounding areas. ONE MusicFest 2022 begins October 8th- 9th, early bird tickets are on sale now on their website.
ONE MusicFest releases their 2022 lineup with special guest Lauryn Hill