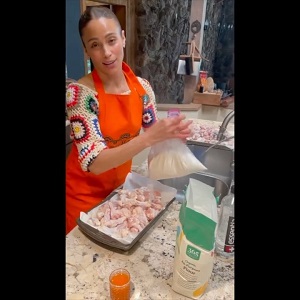 Paula Patton sparks jokes on Twitter over fried chicken video
It's rare to see Paula Patton trending on Twitter. So, when Paula's name showed up today, people were eager to see why. An old video that Paula Patton shared went viral, where she was preparing friend chicken. Paula Patton was the source of a lot of commentary.
Paula Patton is a legend in the industry. In the late 1990s, Patton established herself as one of the leading actresses in the industry. Patton returned to the headlines in 2013, when her marriage became gossip fodder. During the spring of 2013, Paula Patton spoke to Hip-HopVibe.com about her movie, Traffik.
This evening, Paula Patton became the source of jokes on Twitter. An old video of Paula Patton sharing her fried chicken recipe led to Twitter going in on her. There was a person on TikTok who did her own video, over Paula Patton's original video. The TikTok star had tons of criticism for Paula Patton and her recipes. Criticism trickled over onto Twitter, where it turned into jokes. Paula Patton has been trending on Twitter for hours. However, Paula Patton has also had people speaking in her defense.
Paula Patton sparks jokes on Twitter over fried chicken video