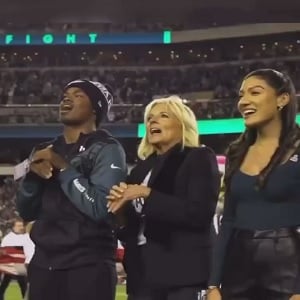 Philadelphia Eagles fans boo Jill Biden and chant F Joe Biden
Jill Biden decided to attend the Philadelphia Eagles' game against the Dallas Cowboys, yesterday. While NFL fans definitely wanted to get the Eagles/Cowboys debate going, the Eagles fans in attendance had something to get off their chest. The vocal majority did not like anyone from the Biden family being there. As a result, they booed when they were put on the jumbotron.
Jill Biden is the wife of Joe Biden, the current President of the United States. Currently, Biden is highly unpopular, and people are not shy about their disapproval. High gas prices and inflation have led to Biden's approval rating sinking as low as 37%. With the midterm elections taking place in under a month, many believe that the feelings about Biden will be shared with the people running for office. If Mrs. Biden thought the football game would be a break from the politics, she thought wrong.
Jill Biden was accompanied to the Philadelphia Eagles' game against the Dallas Cowboys with her daughter. When they stood, after being spotted on the jumbotron, the fans let her have it. Not only did they begin booing Mrs. Biden, but they also started a "F Joe Biden" chant. As a result, the moment began trending on Twitter. When Joe Biden won the presidency, the state of Pennsylvania was key in his victory. To be exact, the city of Philadelphia helped push him to victory.
Philadelphia Eagles fans boo Jill Biden and chant F Joe Biden
https://twitter.com/RVendettq/status/1581840691315236864?s=20&t=rpGRywv0jvG2-4945jbf7g