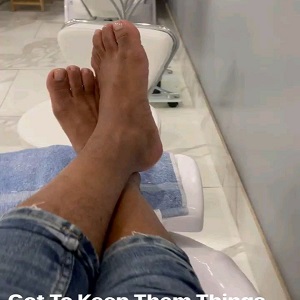 Plies shows off his pedicure
Social media has definitely had a huge impact on hip hop. A decade ago, Twitter became the outlet for almost every prominent hip hop artist. Since 2016, Instagram, Snapchat, and TikTok have emerged as a hub for the celebrities to go to. For hip hop, Instagram remains home, and Plies reigns supreme.
Many rappers who are past their prime have turned to Instagram and gotten a new career. Plies is one of the most prominent ones to do so. The Miami rapper is always on Instagram. A social commentator, Plies often speaks on relationship issues, and personal wellness. This commentary from Plies has him trending almost every day.
Plies is one of those people who simply tells it like it is and people see value in that. A few years ago, Plies went off about Khia on Instagram. During that same period of time, Drake actually used one of Plies' IG videos for the outro on Scorpion. The tone of that video had people wondering if Drake actually used Plies to respond to Pusha T's diss. On that song, Drake confirmed the rumors Pusha T started about him having a child. But, this time Plies was on IG showing his pedicure off.
Plies shows off his pedicure