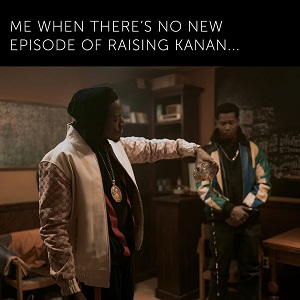 This summer, "Raising Kanan" has been the hit series fans didn't know they needed. The show, "Power, Book III," provides the backstory of 50 Cent's character, Kanan. But, after a pivotal episode five, fans are wondering where episode six is, and it's not coming, this week.
Mekai Curtis is coming into his own, playing Kanan, during his teenage years. Against his mother's wishes, Kanan is learning the street life. Along with this, fans have learned that Kanan grew up almost like a rich kid, and that he chose the street life.
Tonight, "Raising Kanan" fans wanted to see what was going to happen. Last week's "Raising Kanan" episode made it seem as if Howard (Omar Epps) is Kanan's biological father. Viewers will have to wait, until August 29, to find out what's going on, with episode six, when it airs.