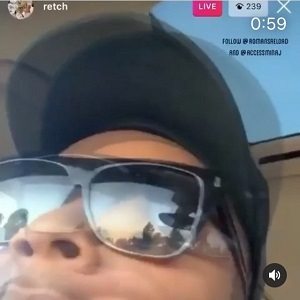 By Jay Rich
Hip-HopVibe.com Staff Writer
On the New Jersey hip hop scene, RetcH has been making noise for quite some time. He has made ripples, on the national scene, and now he has crossed over into a new lane. Claiming he witnessed drama with celebrities, Meek Mill and Nicki Minaj, he is now in the gossip lane.
RetcH made his name on the New Jersey mixtape scene, where he's released several projects. In 2015, he had some legal issues that landed him behind bars. Upon his return, he immediately came back with new music.
However, RetcH's latest headlines have nothingto do with his work, instead being all about Meek Mill and Nicki Minaj. RetcH claims he recently ran into Meek, who ran into Nicki Minaj with Kenneth Petty, and a fight almost broke out. While he said Meek had his goons with him, RetcH claims he and his friend were prepared to shoot Kenneth Petty.
Watch the entire video below:
https://www.instagram.com/p/B7uyluupp-O/
Follow Hip-HopVibe.com on Twitter @HipHopVibe1.