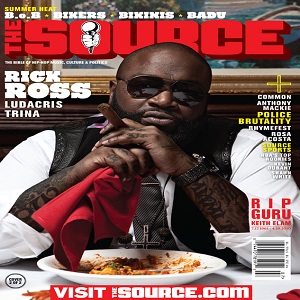 Rick Ross says he has nothing but love for Young Jeezy
After the release of "B.M.F." this summer, Rick Ross emerged as one of rap's figureheads. For years, his label-mate, Young Jeezy, held this position. But, after his 2008 album, The Recession, did not do as well as expected, the label, Def Jam shifted their focus.
Young Jeezy appeared to be close friends with Rick Ross and the duo even recorded a mixtape together. Things changed between the two when Jeezy remixed "B.M.F." It appeared as if Young Jeezy dissed Rick Ross on his version, "Death Before Dishonor." Rick Ross heard the remix and he wanted answers.
More than once, Rick Ross has tried to reach out to Young Jeezy, but he never gets a reply. Rick Ross now has issues with Young Jeezy because of the way he is acting. Not only did he subliminally diss Ross, but he also made fun of the rapper in his hometown of Miami. Rick Ross has seen video footage of this and all he wants is for Young Jeezy to man up.
Rick Ross said he can accept it if the two are now feuding, he just wants Young Jeezy to come forward and be a man about what is going on. Ever since August, Young Jeezy has been avoiding Rick Ross' calls and making fun of him at the same time. After his issues with 50 Cent, Rick Ross has made it clear he is not afraid to go after anyone.
Speaking with The Source, Ross changed his tune, saying he has nothing but love for homie (Jeezy).
Rick Ross says he has nothing but love for Young Jeezy