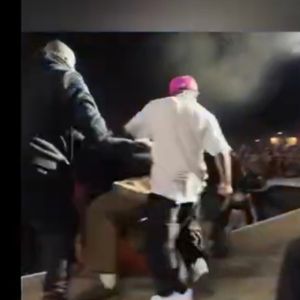 Roddy Ricch kicks fan on stage at 2022 Frauenfeld
Roddy Ricch went viral as videos circulate showing him kicking a fan on stage. The viral video posted by a concert attendee details the entire ordeal. In the clip Roddy Ricch is seen walking down the stage and then slowing down as he approaches the fan.
Roddy Ricch was clearly upset by the fan. Members of security rushed the stage as Roddy Ricch walked up and began kicking the fan. Per the clip Roddy Ricch kicked the fan multiple times before continuing on with his show. As a result, Roddy Ricch went viral.
Roddy Ricch performed at the Openair Frauenfeld 2022, one of the biggest hip-hop festivals in Europe. This year's line up is one to remember, featuring stars like Tyler The Creator, Megan The Stallion, J. Cole, Lil Baby, Jack Harlow, Fivio Foreign, Flo Milli and so many others!! The concert continues this weekend ending on Sunday July 9th.
Roddy Ricch has been the topic of discussion this year as his legal troubles continue to overshadow his talent. In June he was arrested on gun charges as private security officials saw firearms in his vehicle. The very public arrest prevented Roddy Ricch from performing at the Governors Ball in Queens, NY. However, these charges were dropped upon his release. Despite his recent antics, Roddy Rich continues to sell out shows. With the public and fans everywhere witnessing this moment, it is uncertain if any action will be taken.
Roddy Ricch kicks fan on stage at 2022 Frauenfeld