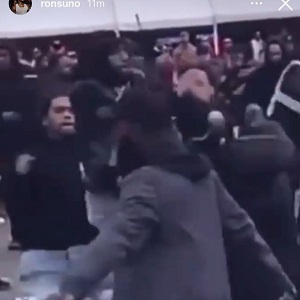 When Rolling Loud hit New York City, it was not without drama. Currently, Ron Suno is one of the hottest rising rappers from the city. Also making noise is Kay Flock and, together, these two fought, during the festival.
Ron Suno and Kay Flock are two of the brightest rising stars. They were booked to perform at Rolling Loud, but they have animosity. This led to the rappers actually fighting.
Ron Suno decided to share footage, of the fight. This came after Kay Flock claimed he "beat TF outta" him. After arguing on IG Live, Ron just showed more of the footage, where he got hits in.
https://www.instagram.com/p/CVrJ9uaAzqj/