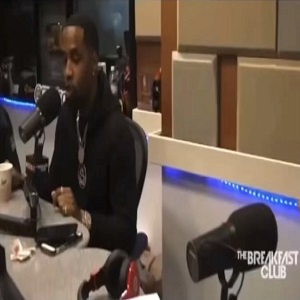 Safaree asks if he can replace Angela Yee on The Breakfast Club
Safaree rose to the top of the game, early in his career. Back then, Safaree was dating Nicki Minaj, and he was her longtime boyfriend. The two were a happy couple, until they broke up at the end of 2014. In 2015, Nicki Minaj moved on with Meek Mill and they recorded "All Eyes on You." After that, Safaree made his official debut on "The Breakfast Club" to tell his side of the story.
Safaree launched his career, officially, in 2015. After breaking up with Nicki Minaj, Safaree made appearances on K. Michelle's reality show. Soon, Safaree would make appearances on every major VH1 show. In addition, Safaree would release his original music, for the first time. A year after Safaree began making his own moves, he began appearing on "Love & Hip Hop Hollywood."
Safaree, like the rest of the world, watched the news of Angela Yee leaving "The Breakfast Club." While it is good news for Angela Yee, it is a lot for the fans to take in. With Angela Yee leaving "The Breakfast Club," the search is on for a third host. The first person has now stepped up with an audition to take over for Angela Yee. None other than Safaree has taken to Instagram, showing a clip of one of his "Breakfast Club" interviews, saying he can take over for Angela Yee.
Source: Hollywood Unlocked
Safaree asks if he can replace Angela Yee on The Breakfast Club