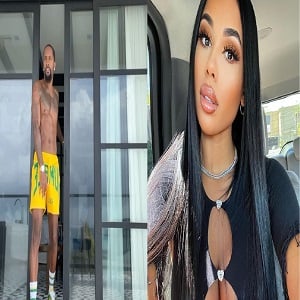 Safaree and Kimbella Matos suffer explicit video leak
Safaree seems to have this kind of thing happen to him somewhat often. In 2015, Safaree spoke out for the first time, independent of Nicki Minaj. The world first got to know Safaree in 2009, as Nicki Minaj's boyfriend. After the breakup, Safaree spoke out, revealing he put his career on hold to push hers.
Safaree immediately moved into the VH1 sphere, after his and Nicki Minaj's breakup. Between 2014 and 2017, Safaree appeared on K. Michelle's spinoff, "Love & Hip Hop Hollywood," the original "Love & Hip Hop," and "Scared Famous." Each show saw Safaree have a different love interest.
Safaree met Erica Mena, on "Scared Famous," and was relentless in pursuing her. As a result, Safaree was warned by fans about Erica. In the beginning, Erica Mena warned Safaree that she was too much for him. However, Safaree won her heart, and then he proved to be too much for her. During "Love & Hip Hop Atlanta," their storyline detailed their breakup. In real time, Safaree and Erica's breakup played out through gossip blogs.
Safaree was spotted with Kimbella Matos, a year ago. It was soon confirmed that Safaree was dating Kimbella Matos. As a result, Erica Mena cut off contact with him. In addition, Erica revealed Safaree was having nothing to do with his children. After that, Erica Mena shared this on "Love & Hip Hop Atlanta," and Safaree won her back on the "Family Reunion." With that being said, Safaree continued seeing Kimbella Matos, and Twitter is saying a video is out on them.
Safaree and Kimbella Matos suffer explicit video leak