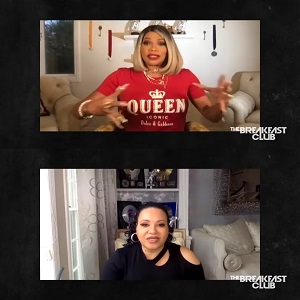 By Jay Rich
Hip-HopVibe.com Staff Writer
In 1986, Salt-N-Pepa silently debuted, on the scene, but wouldn't remain silent, for long. The group's single, "Push It," became a hit, in 1987. From there, Salt-N-Pepa broke the doors down for female emcees.
For all the debates about Lil' Kim vs. Nicki Minaj, when it comes to fashion, look at Salt-N-Pepa. There's quite a bit that they touched, first. Also, they were early on the VH1 reality TV movement, having their own show.
Salt-N-Pepa are finally getting their own biopic, which will air on Lifetime, with Queen Latifah serving as executive producer on. Recently, Salt-N-Pepa called into "The Breakfast Club," speaking with DJ Envy, Angela Yee, and Charlamagne Tha God. They discussed their history, the biopic, working with Lifetime and Queen Latifah, music, and more.
Watch the entire interview below:
Follow Hip-HopVibe.com on Twitter @HipHopVibe1.