Last night, Saweetie performed her "Fast Motion" single on "Jimmy Kimmel Live." There, the show also announced that her debut studio album, "Pretty B*tch Music," would be released on June 25.
In a quick turn of events, this project is supposedly not arriving next week. Saweetie's team has reportedly come out and said that this isn't the plan right now. Pretty B*tch Music has been expected to arrive sometime in 2021 but, it doesn't appear that a June release is happening.
Saweetie has tons of momentum right now, as her "Best Friend" single featuring Doja Cat, has been one of the hottest records of 2021. It peaked at number 13 on the Billboard Hot 100 chart, and is certified platinum in the US. Saweetie even gave away Teslas to fans this week, in promoting this single with her "Bestie In A Tessie" giveaway.
Saweetie's last project was her "Pretty Summer Playlist" EP, in April. That was led by the "Risky" single, featuring Drakeo The Ruler. Whenever Pretty B*tch Music is finally out, it may definitely be a top five album in the US, based on the massive success that Saweetie's had over the last two years.
Check out Saweetie's "Fast Motion" performance on Jimmy Kimmel Live below.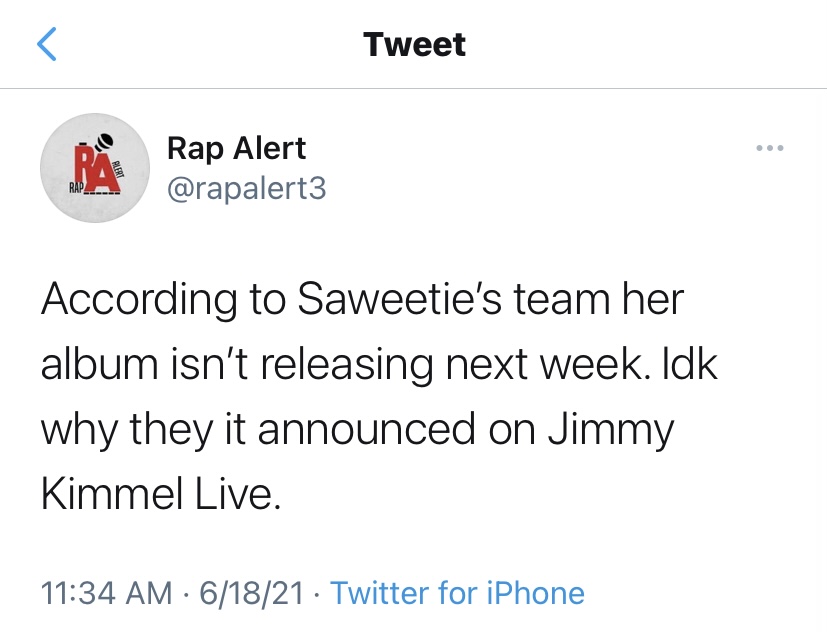 https://youtu.be/mXMs1VCMQCk