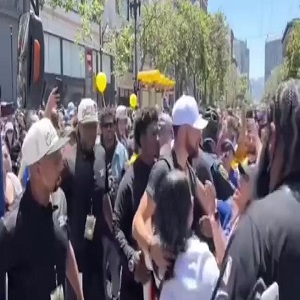 Stephen Curry ducks woman trying to kiss him on the lips
Stephen Curry is the one NBA player that women openly thirst over on social media. For years, women shaded Stephen Curry's wife, Ayesha Curry. However, Steph and Ayesha proved to be a hard couple to hate. As a result, Stephen and Ayesha Curry are loved by most women on social media.
Stephen Curry has consistently been one of the NBA's best players for ten years. In 2014, Stephen Curry put himself on the map in a big way. The 2014-2015 campaign saw Curry lead the Golden State Warriors to 67 wins. After that, Curry won the MVP and the 2015 NBA championship. With his Warriors beating LeBron James' Cavs, it was impressive.
Stephen Curry has faced a lot of criticism, as an NBA superstar. Despite Curry being a two time regular season MVP and having three championships, he has never won Finals MVP. Most argued that Curry should have won the 2015 NBA Finals MVP. After Kevin Durant joined the team, it was accepted that he would win Finals MVP. However, there was some argument that Curry should have won 2018. In 2022, Stephen Curry did it all and won Finals MVP, along with his fourth ring. During the Warriors' celebration, a woman tried kissing Steph on the lips, and he narrowly avoided it.
Stephen Curry ducks woman trying to kiss him on the lips