Summer Walker announces "Girls Need Love (Girls Mix)" EP
This week, Summer Walker is celebrating the 5-year anniversary of her debut "Last Day Of Summer" mixtape, which was initially released on October 19, 2018. That project helped propel her to stardom in R&B, as it contained her breakout "Girls Need Love" album.
Moreover, Summer is now celebrating this anniversary in a major way. On October 20, she is releasing her "Girls Need Love (Girls Mix)" EP. This will contain three different remixes of Girls Need Love, as each will feature Victoria Monét, Tink, as well as breakout pop/R&B star, Tyla. The original Girls Need Love remix featured Drake in January 2019, and was one of the biggest records of the year. Six songs will appear on this forthcoming EP in total, which also include an acoustic version of the original Girls Need Love single, as that version is available now.
Meanwhile, Summer has also had a great 2023. She welcomed twins into the world, and also released her "Clear 2: Soft Life" EP in May. That project contained nine songs, including appearances from. J. Cole and Childish Gambino. As a result, it saw a number 26 debut in the US, on the Billboard 200 chart.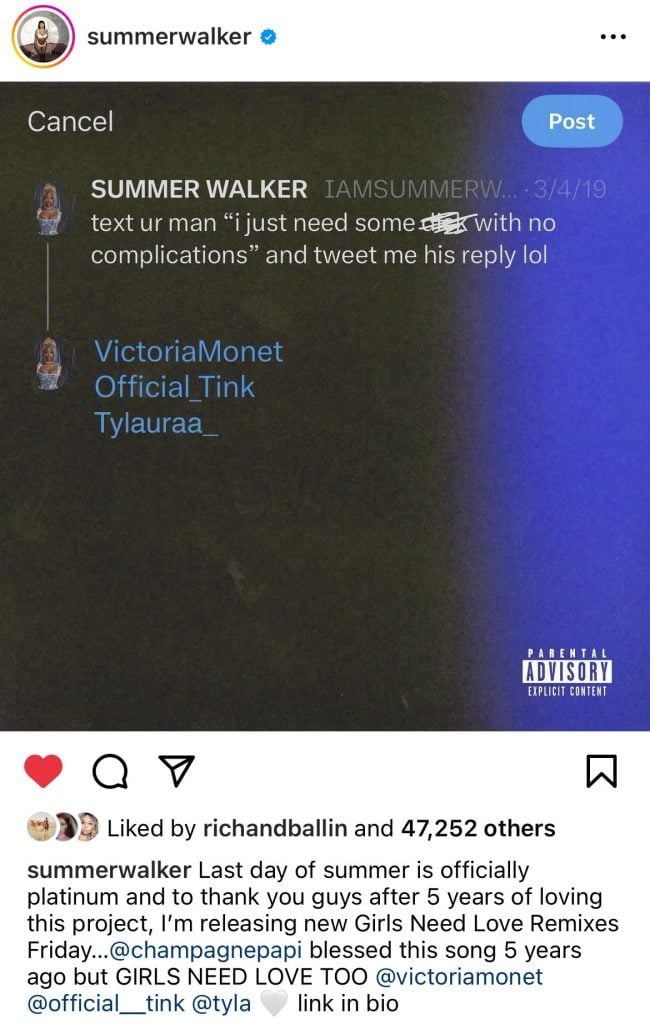 Summer Walker announces "Girls Need Love (Girls Mix)" EP