By Yuriy Andriyashchuk
Hip-HopVibe.com Staff Writer
Tory Lanez has shown a lot of consistency since the fall as he's released three projects in total. They were his "Daystar" album in September, "Loner" album in December, and "Playboy" album in March. The Loner and Playboy projects are "capsules" of different genres of albums. This will continue in 2021 as well as Lanez is planning to do albums such as pop and reggae.
Lanez has also been doing great charitable work. He launched his alkaline "Umbrella Water" and got cases of them to Lousiana and Texas residents. This is after the winter storms that struck in February. Now, the Toronto star is ready to do interviews again.
Lanez took to Twitter for suggestions on Thursday night as to who should interview him. One user suggested DJ Vlad of VladTV. From that point, Lanez made it known that he's not down for that at all. His reasoning was that Vlad is a "cop." This is what many artists feel is the case about Vlad as he's known to be one to get artists to discuss their legal cases.
As far as legal cases go, Lanez is still dealing with the alleged Megan Thee Stallion shooting incident from last summer. In October, he was charged with one count of assault with a semiautomatic firearm, and one count of carrying a loaded, unregistered firearm in a vehicle. If convicted, Lanez faces 22 years and eight months in prison. He has since maintained his innocence on multiple occasions, though.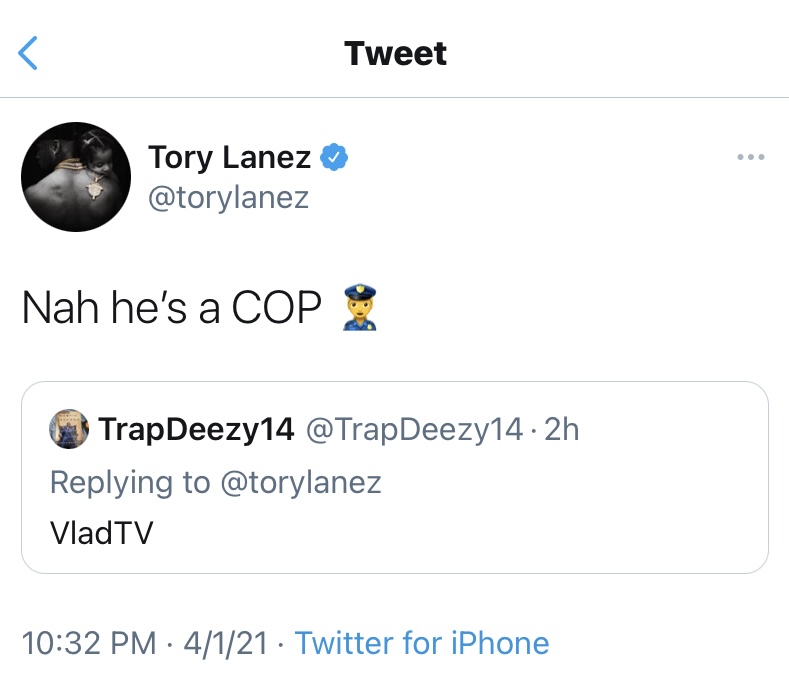 Follow Hip-HopVibe.com on Twitter and Instagram @HipHopVibe1.