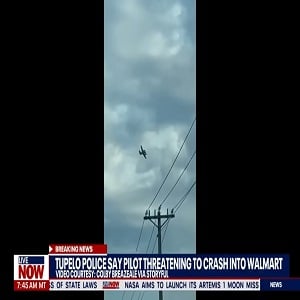 Tupelo MS pilot threatens to crash plane into local Walmart
Tupelo, Mississippi is a town that is deep with history. The town is the birthplace of Elvis Presley. However, in more recent history, Tupelo is the town where a pilot decided to crash his airplane. Flying over a Walmart, in the town, the pilot threatened to run it into the store.
Tupelo is a town that does not normally make major headlines. However, the town of Tupelo has been all over the national news, today. A man was flying an airplane and he suddenly had a mental breakdown, of sorts. As a result, the people on the ground, near the plane began to worry.
The Tupelo man had the passengers on the plane frightened. For reasons unknown, the man decided to crash the plane. As he was flying over a Walmart, he said he was going to crash into the plane. Obviously, the police were notified, and they warned shoppers to evacuate the area. After that, the pilot of the plane landed, and has since been in police custody. While in the air, the pilot made contact with E911, which led to the police getting involved.
Source: WTVA
Tupelo MS pilot threatens to crash plane into local Walmart