WNBA had no fans at Chance The Rapper concert due to gun concerns
This past weekend, the WNBA had their all-star weekend activities, in Chicago. Sunday also featured a very entertaining all-star game, as Team Wilson defeated Team Stewart, 134-112.
Saturday night also featured a performance from hometown superstar, Chance The Rapper. Unfortunately though, fans were not allowed to this event, only media members.
WNBA Commissioner Cathy Engelbert is now explaining why fans weren't allowed at this Chance concert. She oddly revealed that this was due to fears of possible gun violence. Engelbert ended up issuing a statement, about how they were able to avoid any incidents.
"To be clear: we had a fantastic weekend in Chicago, featuring our first ever WNBA Live festival, and we had zero public safety incidents. As a league, we take precautions in every location where we operate in order to ensure the safety of our players, fans, and staff."
Many fans were very confused at this move, as a Chance The Rapper concert is the last event that people would expect gun violence or gang activity at. These concerts have been raised for other Chicago rappers such as Chief Keef or Lil Durk, though.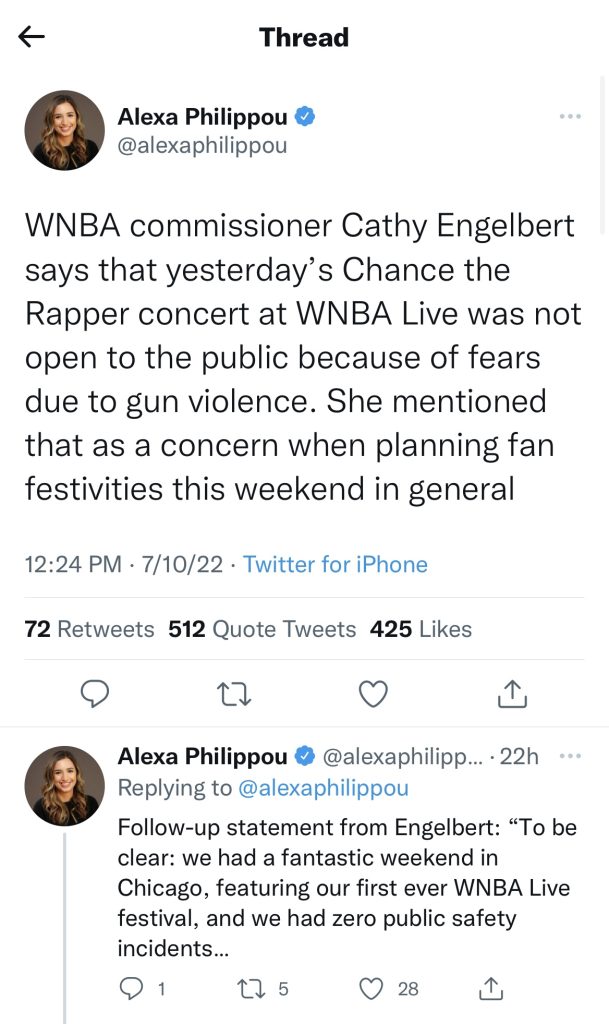 WNBA had no fans at Chance The Rapper concert due to gun concerns