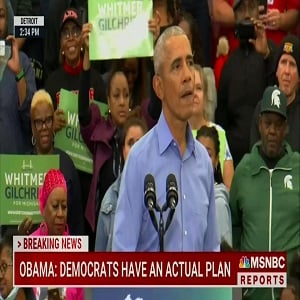 Woman flirts with Barack Obama during campaign rally
Barack Obama was more than a president. During his eight years in office, President Obama was also a rock star. His following was cultlike. As it approaches six years since he left the presidency, Obama still has diehard fans. When he went to Michigan for a rally, Obama realized just how much the people still love him.
Barack Obama swept into office, in 2008. As a Democrat, Obama won over voters and states that the Democratic Party had not won in decades. In some cases, Obama was the last person to win a lot of those states. Four years later, Obama was re-elected to serve four more years as the President of the United States.
Barack Obama has settled into retirement, where he is embarking on a business career. According to rumors, President Obama is a part of an ownership group looking to buy the Phoenix Suns. In addition, his vice president, Joe Biden, is currently serving as President of the United States. Currently, the states are gearing up for their elections. As a result, Barack Obama is on the campaign trail. During a recent rally in Michigan, Obama acknowledged he was aging, and mentioned his gray hair. While he was speaking, a woman shouted out that the former president was "finer than a MFer." As a result, Obama asked the woman to say it again.
Woman flirts with Barack Obama during campaign rally
Obama: I'm getting old and gray.

Black lady: You fine than a mfer. pic.twitter.com/8ilpc5GsKM

— Renee (@PettyLupone) October 29, 2022