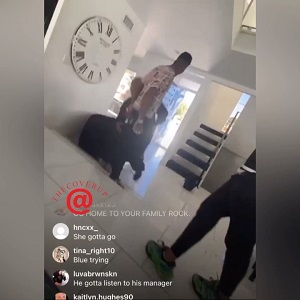 In his career, Blueface is no stranger to controversy. Three years ago, "Thotiana" became a hit. Since then, the LA rapper has made more headlines over his antics, instead of his music.
Blueface is known for having multiple women living with him, in his mansion. During the quarantine, he had these women doing his version of "Bad Girls Club." Much drama played out, during those weeks.
This morning, a woman went live, on Instagram. She said she is locked in Blueface's house. Police officers saw this video and arrived at his home, which led to a fight between one of the ladies, and Wack 100.
https://www.instagram.com/p/CW3wPZpAA0k/