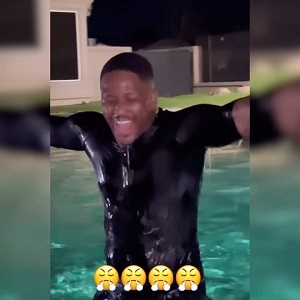 YG sings and dances to Usher's Burn in his swimming pool
YG was a part of the 2011-2013 wave of Los Angeles rappers who took over the game. At the time, YG reinvented himself and came back with "My Hitta," featuring Rich Homie Quan and Jeezy. After that, YG delivered "Who Do You Love?," featuring Drake.
YG quickly became known for his hit records. However, YG is still fondly remembered for the 2013-2014 run that made him famous. In the years since, YG has been a unifier among the LA and greater West Coast rap scene. Despite the opposing affiliations, YG became close with Nipsey Hussle.
YG has always had a good relationship with Tyga. Last weekend, YG and Tyga were roasted by social media for their reenactment of White Chicks. While YG is still catching heat for that, he has given fans more entertainment. This morning, YG took the internet over, when he shared a video of himself dancing in his home pool. Recreating the music video for "Burn" by Usher, YG was singing the lyrics to the song and dancing. Anyone who watched Usher in the original video understands what YG is recreating.
YG sings and dances to Usher's Burn in his swimming pool