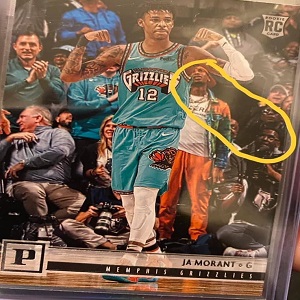 Young Dolph and Key Glock are on Ja Morant's rookie trading card
Ja Morant led the Memphis Grizzlies to their best season ever. Statistically, the Grizzlies have only tied their best ever season. Emotionally, Ja Morant is the Grizzlies' best player ever, and this is their best team ever.
The city of Memphis needed this season from the Grizzlies. Early in the season, the city of Memphis endured a significant loss. Young Dolph is one of the biggest rappers from the city. During the week of Thanksgiving, Young Dolph was killed while buying his mom cookies in Memphis.
Ja Morant became a part of Memphis culture in 2019. The Grizzlies had the second draft pick and they chose Ja Morant. While the Memphis rappers may have issues with each other, the Grizzlies are one thing they agree on. Everybody in Memphis loves the Grizzlies. For this love, the Grizzlies have tied a franchise record for wins and hold the NBA's second best record. Ja Morant is the leader of the Grizzlies, winning the Most Improved Player award this season.
Currently, Ja Morant and the Grizzlies are down 1-0 against the Golden State Warriors. Young Dolph, unfortunately did not get the chance to see this. However, Young Dolph lives on, as a photo of Ja Morant's trading card is circulating on Facebook with him in it.
Young Dolph and Key Glock are on Ja Morant's rookie trading card