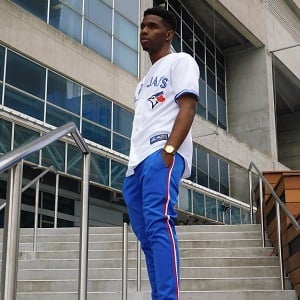 By Chox-Mak
Hip-HopVibe.com Staff Writer
Up in Toronto, many of the hottest new names in the game, are coming from the city. Without naming all of the names, JNYR is determined to be the next act to emerge from Toronto. Already, he has gotten off to a strong start, releasing some very popular singles.
JNYR is now preparing to drop his first official project. Before the end of the summer, JNYR will release Transition to the masses. This new record is set to be one of the standout releases of the year, as JNYR is commanding more attention.
Recently, Hip-HopVibe.com had the fortune to speak to JNYR. He is soon to be one of the biggest names and he's already amassing huge buzz. But, he took the time out to speak on his new music, his ambitions, and much more.
Read the entire interview below:
Why do you think it took so long for the industry to recognize the talent from Toronto? I believe, because the U.S is so big in terms of its population, it never really made sense for Americans to venture north for music, when they could get it domestically. Until they were introduced to a sound they never heard before, just like in sports, superstars shift the culture of the league, and that's what's happening in music. I feel like, in urban music, we've had a lot of great Canadian artist, but it takes superstars to knock down the border. Now, Canadians are some of the most recognized individuals in the music business today.
What separates you from the multitude of other artists who are coming from the 6? I believe that my versatility separates me from the pack. I pride myself on being able to write different types of records that move you in a multitude of ways invoking a variety of emotions. I also write all my music and help arrange most of my production, myself. Not a lot of artists like to be that hands on with their work, but I'm big on attention to detail. I hear everything! Every note, every snare. Sometimes, my producer will be like "nobody is going to even notice that," but that doesn't matter. Once I do it needs to be fixed and we ain't leaving until we get it right. I won't be able to sleep otherwise. You can't cut corners on quality!
Right now, you're working on your project, and you called it Transition, what inspired that title? Transition was inspired by my writing style also, where I'm at right now, mentally and musically. I feel like, musically, I'm evolving and in transition from where I'm at to where I'm going. In terms of my writing style, it's always in transition-progressing and moving in a forward direction, smooth and easy.
Once this project is out, how do you believe your position in the game will change? I feel this project will help give my audience a better scope of me, as an artist. To date, we've only released three songs. With this body of work, I'm looking for it to showcase more of my talents, and open me up to a bigger market allowing me to grow. From there, we'll take it as it comes and adjust to the positioning accordingly.
Are there any features with some big names that you have coming up? As an artist that prides myself on being able to pen something for anybody, the opportunities are endless in terms of features. However, as of today, my main focus is finishing Transition and then the roll out of the project. After that though, I'm open to collaborating and building with like-minded talented individuals.
How will your next singles differ from some of your earlier releases? It won't sound remotely the same. If you check out the three songs we've released to date; "Twenty Ten," "No Matter Where," "Great Sensation," none of them sound the same. Sonically they all have its own unique feel. Subject matter and tone completely different. Still JNYR though.
Where can fans connect with you on social media? You can hit me on all social media platforms @fromJNYR .. Let's Connect!
Follow Hip-HopVibe.com on Twitter @HipHopVibe1.