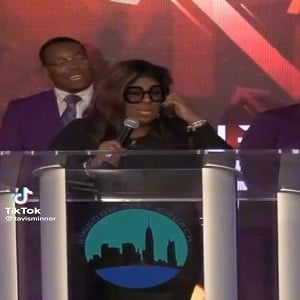 Kim Burrell calls people at church ugly and mentions PPP loans
Kim Burrell recently spoke at a church and made some comments that turned heads. Typically, when a person takes a pulpit at church, there is a form of reverence. By stepping on a pulpit, the speaker agrees they believe in a Higher Power, and all respect is due.
Kim Burrell is among the pastors who do things a bit differently, however. Over the years, there have been pastors who inject a little humor into their sermons. In fact, there is nothing wrong with that. However, the humor must still be respectful, and nothing vulgar.
Kim Burrell was not vulgar, in terms of the language she used, but she was offensive. From the start of her viral video clip, Kim Burrell was throwing shots. Initially, Kim Burrell's speech made sense, when she spoke of doing friend interviews. However, when Kim Burrell began attacking people over finances, and the type of houses they live in, it went left. After that, Kim Burrell threw shots to people's responses to the ongoing health crisis. Burrell made jokes about people having leftover PPP money, and then she began calling people ugly, but made it clear she was not referring to anyone in her congregation.
Kim Burrell calls people at church ugly and mentions PPP loans