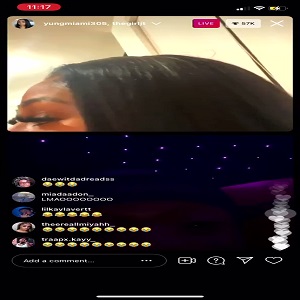 For some time, it's been clear that Yung Miami isn't Lil Uzi Vert's biggest fan. When JT confirmed the rumors of her dating him, the face Yung Miami made began trending on Twitter. Months later, nothing has changed.
Lil Uzi Vert, despite how he comes off, is more aggressive than many would guess. Behind the scene, Lil Uzi Vert and Yung Miami likely have had it out. The fact that they had it out, arguing on IG Live, lends credence to this thought.
Tonight, Yung Miami and JT were on Instagram Live, when an argument broke out. Lil Uzi Vert and Yung Miami got into it, leading to Uzi cursing her out, and calling her all kinds of names. It got so bad that Southside went on Live, telling Uzi to never speak to his girl like that, again.
Watch the videos below:
bitch! it's Uzi cutting up on Caresha's Instagram Live 💀😂 pic.twitter.com/0fW5mwDXGw

— bú is a Scorpio ♏️ (@eddie_deux) April 2, 2021
https://twitter.com/PHRESH305/status/1377839731044651009?ref_src=twsrc%5Etfw%7Ctwcamp%5Etweetembed%7Ctwterm%5E1377839731044651009%7Ctwgr%5E%7Ctwcon%5Es1_&ref_url=
Follow Hip-HopVibe.com on Twitter @HipHopVibe1.