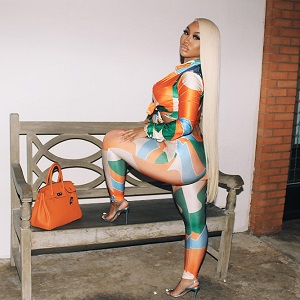 Ari says Moneybagg Yo didn't get her Lamborghini repossessed
Ari and Moneybagg Yo began spending time together, at the end of 2019. During the year of 2019, Ari was actually dating Gervonta Davis. At the end of that year, they broke up. After that, Ari began hanging out with Moneybagg Yo, and they confirmed their romance in 2020.
Ari rose to fame, when she and G Herbo were together. When she gave birth to their son, Yoshon, G Herbo was actually on tour. However, G Herbo literally ran to the hospital to be there for the birth of their child. After that, G Herbo and Ari shared countless viral videos of him and her dog.
Ari would get involved with Moneybagg Yo, in a high profile relationship. Among other theatrics, Moneybagg Yo gifted Ari with a Lamborghini truck. In addition, Ari purchased 28.9 acres of land for Moneybagg Yo, last year, on his 30th birthday. Garcelle Beauvais spoke out about this, on "The Real," saying Ari made a mistake, in the event that they don't work out. In the end, Ari and Moneybagg Yo did break up. Rumor had it that Moneybagg Yo had the Lambo truck repossessed. This has been a trending story for a week. Now, Ari is speaking out, denying Moneybagg Yo did this, and also said that he is not even that kind of person.
Ari says Moneybagg Yo didn't get her Lamborghini repossessed