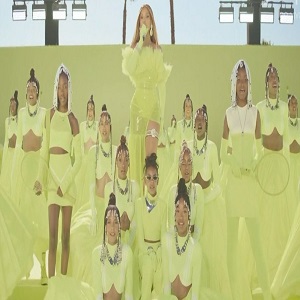 Blue Ivy Carter makes Oscars debut during Beyonce's performance
Ten years ago, Blue Ivy Carter was born, and she immediately made history. Jay-Z recorded a song called "Glory," and included Blue Ivy's vocals on it. Blue Ivy Carter became the youngest person ever to have vocals recorded on a song.
Over the years, Blue Ivy Carter had many heartwarming moments. When Beyonce was rehearsing for the On The Run tour, she was practicing "Drunk In Love." Blue Ivy took over the sound system, singing the lyrics, and then saying "I love you, mommy," bringing a tear to her eye.
Blue Ivy Carter is now the oldest of three siblings. Suddenly, Blue Ivy Carter is a ten year old, and no longer such a little baby. Every step of the way, Blue Ivy has had her parents placing her in historic moments. When Beyonce did her Lion King remake, she had Blue Ivy in the video, and on the song. In 2017, Jay-Z returned with 4:44, and included Blue Ivy's freestyle on the album. So, it's only right, that Beyonce includes Blue Ivy Carter in her Oscars performance. Twitter can't get enough of it.
Blue Ivy Carter makes Oscars debut during Beyonce's performance