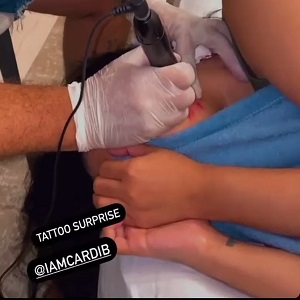 Cardi B gets tattoo of her son's name on her face
Cardi B is the prototype for many of the rising female artists of this generation. There are a lot of artists who have momentum behind him. Nobody did it like Cardi B, until she actually did it. When Cardi B was dancing, she had ambitions of being a major rap star.
Cardi B amassed a huge social media following, due to her history as a dancer. As a result, "Love & Hip Hop" cast her to be on the show. When Cardi B joined the show, she filled the void left by Erica Mena, and others. Most felt Cardi B was good just being on the show.
Cardi B quietly signed with Atlantic Records, early in 2017. After that, Cardi B did a song with Offset, and then they went to the Super Bowl together. Quietly, Cardi B and Offset got married, as she loudly took over the music industry. When their relationship was seemingly over, Cardi B gave birth to her first child, Kulture, and then had her second child, first son, Wave, both of whom are Offset's children. To honor her youngest child, Cardi B got a tattoo on the side of her face, with Wave's name.
Cardi B gets tattoo of her son's name on her face