Drake wins $335,000 bet on Drake London NFL Draft bet
The NFL Draft is currently underway in Las Vegas, as the best college athletes are reaching their dreams. Many are also betting on various situations in the draft, including which positions are getting drafted first.
Yesterday, Drake bet $100,000 that USC Wide Receiver Drake London, would be the first WR taken off the board. This in fact happened, as London was drafted by the Atlanta Falcons, with the eighth overall pick. London is regarded as one the most talented wide receivers in this year's draft class.
Drake ended up winning this bet, as he took home $335,000. London suffered an ankle injury in the middle of the 2021 season, but was still very productive, before then. When announcing the original bet, Drake said "Drake betting on Drake feels right. @stake"
Drake is very active in sports betting, this year. This month, he lost a $100,000 bet, after choosing Duke to defeat North Carolina, in the Final Four. That was Mike Krzyzewski's last game vs UNC, as he lost his final two meetings vs that rival.
Check out Drake winning his bet on his Drake London NFL Draft pick, below.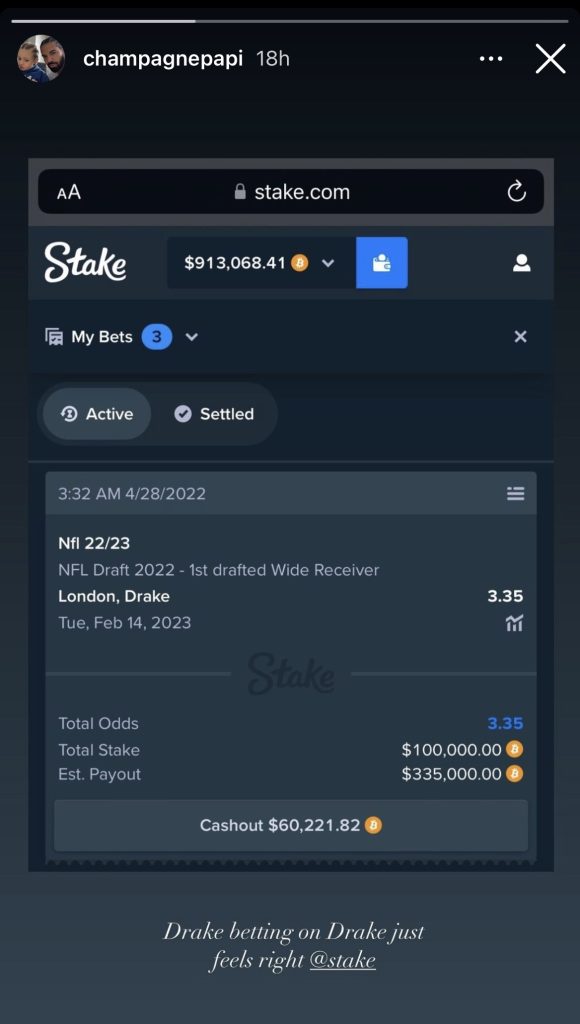 Drake wins $335,000 bet on Drake London NFL Draft bet