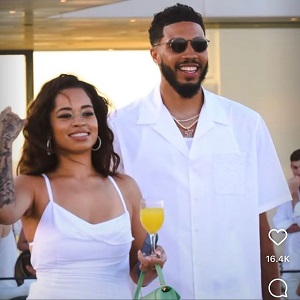 Ella Mai and Jayson Tatum attended Michael Rubin's July 4 party together
Ella Mai came out of nowhere and dominated in 2018. Her 2017 single, "Boo'd Up," resurfaced and took over. Jayson Tatum similarly dominated the NBA in 2018. Drafted in 2017, Jayson Tatum was a rookie for the Boston Celtics. After 2018, Jayson Tatum slowly fell from the spotlight.
Ella Mai avoided the one hit wonder curse, as "Trip" became a hit late in 2018. The song carried over into 2019. In 2019, Jayson Tatum was participating in the NBA's All-Star Weekend festivities. During this time, Ella Mai let it be known that she liked him.
Ella Mai and Jayson Tatum similarly disappeared from the spotlight in 2020. Honestly, the world had more going on than just those two. While they disappeared from the spotlight, both kept working. In the case of Ella Mai, she kept making music, and caught Babyface's attention. Meanwhile, Jayson Tatum finally broke through and got the Celtics to the NBA Finals. After Tatum's Celtics lost to the Warriors, Ella Mai performed with Babyface at the BET Awards.
Ella Mai has enjoyed her return to the spotlight. Now that she's outside again, Ella Mai came to the party with a new date. When Ella Mai showed up to Michael Rubin's All White 4th of July Party, she came with Jayson Tatum as her date. This move has both trending on Twitter, as fans are happy for them both.
Ella Mai and Jayson Tatum attended Michael Rubin's July 4 party together