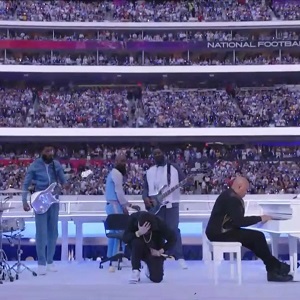 Eminem takes a knee at the Super Bowl after NFL told him not to
One thing about it, Eminem didn't get as far as he has by following the rules. Eminem is arguably the most controversial rapper of all time. When he came into the game, Eminem challenged people's ways of thinking. As he has gotten older, Eminem has changed some of his stances, but remains the same guy.
Eminem came into hip hop and changed the opinions of white rappers. With that, Eminem made it clear that he wasn't a weak emcee. In his career, Eminem has gone at other rappers, and ended some careers. Just a few years ago, Eminem got into a high profile beef. After the beef, Eminem spoke out against then-president, Donald Trump, at the BET Hip Hop Awards.
Ahead of the Super Bowl halftime show, Eminem asked the NFL if he could take a knee. A few years ago, the NFL got into controversy with Colin Kaepernick, as he refused to stand for the National Anthem. During the halftime show, Eminem performed his hits with Dr. Dre. When Dr. Dre took to the piano, Eminem took a knee, anyway. Already a legend, this made Eminem trend on Twitter.