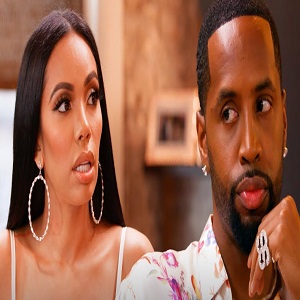 Erica Mena accuses Safaree of leaking video with Kimbella Matos
Erica Mena met Safaree during the filming of "Scared Famous," in 2017. At the time, Safaree was a VH1 fan favorite. In 2016, Safaree joined the "Love & Hip Hop" cast, and he transferred to the flagship show, in 2017. Under those circumstances, Safaree became the main draw on that show.
Erica Mena rose to fame on the flagship "Love & Hip Hop," after her 2011 arrival. Quickly, Erica became the star of the show, but she decided to leave after 2015. Following two seasons of a pre-fame Cardi B, Safaree became the star of the show. In 2017, Safaree dated Nikki from "Hollywood," Sophia Body, and DreamDoll. Actually, his "Love & Hip Hop" episodes aired, showing Safaree with DreamDoll, meanwhile he was pursuing Erica on "Scared Famous."
Erica Mena eventually gave into Safaree and fell for him. Not only did Erica Mena give birth to Safaree's first child, she also married him, and gave birth to his second child. After getting married, Safaree proved to not be the kind of husband Erica dreamed of. Instead of the perfect gentleman, Erica got the Safaree who stayed out all night and made her feel insecure. In the end, Safaree moved on with Kimbella Matos. This week saw a private video of Safaree and Kimbella leak. Safaree has threatened to sue. After that, Erica questioned how he could sue, essentially saying Safaree put his own video out.
Erica Mena accuses Safaree of leaking video with Kimbella Matos