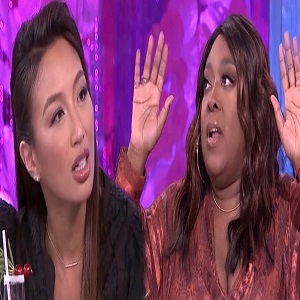 Jeannie Mai calls Loni Love out for speaking on her baby's gender
Since 2013, Jeannie Mai and Loni Love have been co-hosts on "The Real." Loni Love is one of the most-outspoken women on daytime TV. This both makes for good TV and also lands Loni Love in trouble, from time-to-time. A lot of fans have speculated on feuds with Loni Love and the ladies.
In the past, there have been rumors of Jeannie Mai and Loni Love having beef. Normally, the ladies write off those rumors, but Loni Love may have actually crossed the line, this time. Currently, Jeannie Mai and her husband, Jeezy, are facing a lot of backlash, due to their decision to raise their child as gender fluid. Misguided, Loni Love tried to defend her castmate, saying she is doing a gender reveal, on "The Real," this Wednesday.
On Instagram, Jeannie Mai commented on Loni Love's post, where she said Jeannie will announce her baby's gender, on "The Real." Clearly, Jeannie Mai was bothered by this post. She would leave a comment under Loni Love's post, saying "if doin da most was a post." Along with this, Jeannie Mai shared a yawning emoji.

Source: Juicy Talk Radio