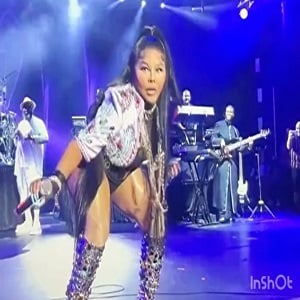 Lil Kim dominates Twitter for doing her robot dance at Essence Fest
Lil' Kim is a legend in the game, but sometimes that part gets forgotten. In actuality, Lil' Kim is an icon. Every female rapper that's out is inspired by Lil' Kim. At Essence Fest, Lil' Kim was booked to perform and she did her thing. Lately, Lil' Kim has faced a lot of scrutiny.
Lil' Kim performed at the BET Awards. Kim was a part of the tribute to Diddy, for his Lifetime Achievement award. During the show, fans noticed Lil' Kim looking different from her usual self. As a result, Lil' Kim became targeted by fans on Twitter, although she had a lot of defenders, too.
Lil' Kim took the stage, at Essence Fest, during The L.O.X.'s performance. The crowd immediately went wild, when Lil' Kim hit the stage. Once they heard Lil' Kim's voice, things really got out of hand. As a result, Lil' Kim came out with very high energy. At the beginning of Lil' Kim's performance, she did her now-commonplace robot dance. As a result, Lil' Kim began trending on Twitter, because the fans love when she does the dance.
Lil Kim dominates Twitter for doing her robot dance at Essence Fest