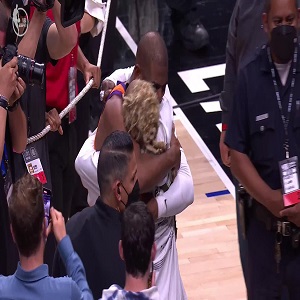 Tonight, Chris Paul had a big in, in Staples' Center, and is heading to the NBA Finals. Unfortunately, for Clippers' fans, Chris Paul now plays for the Phoenix Suns. But, Lil Wayne was happy, running to Chris Paul to hug him, after his huge win.
Lil Wayne has often expressed fandom for the Lakers, and for the Big Three Miami Heat. But, Wayne is a New Orleans native, and showed a New Orleans Hornets chain, on MTV Cribs. During the Chris Paul era, Wayne showed his hometown team a lot of love.
Chris Paul and Lil Wayne have always had a special bond. Wayne was present for Game 6 and excited, when CP3 led the Suns to a series victory, over the Los Angeles Clippers. The hug the two shared, after the game, has fans on Twitter talking.
Watch the entire video below:
CP3 shows love to Lil Wayne after the win 🤝

It all started in NOLA. pic.twitter.com/vroW6yc7i9

— Bleacher Report (@BleacherReport) July 1, 2021
Read the tweets about Lil Wayne and Chris Paul below: