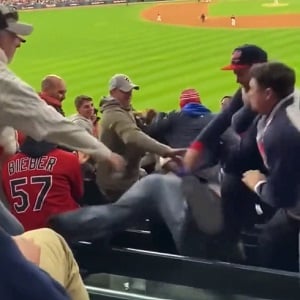 Massive brawl breaks out during Yankees' game
This year, sporting events have been the wrong places to go. Every other weeks, it seems like there has been some kind of altercation going on. Especially the NFL games have seen people going at it. Just two weeks ago, some fans at a Carolina Panthers game got into it. Last night, some New York Yankees fans ended up having a go at it, as well.
Tensions are high, for the New York Yankees. While they won the AL East, the Yankees went down 2-1, in their playoff division series against the Cleveland Guardians. When the momentum shifted into the favor of Cleveland, some Yankee fans got upset. As a result, an argument broke out during the game, which became more.
As the Cleveland Guardians were preparing to go up 2-1, over the New York Yankees, their fans decided to battle it out. While they could not control what was happening on the field, they could control what happened in the stands. A couple of Yankee fans got into it with a Cleveland fan. What began as an argument soon became people swinging on each other. One man was so invested that he lost his balance. The man fell down at least three rows, but none of that stopped what became a very major altercation between an increasing number of people.
Massive brawl breaks out during Yankees' game
— raybaker3030 (@raybaker3030) October 16, 2022