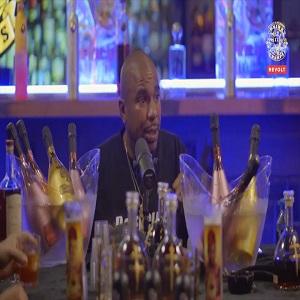 NORE says Kanye interview got more viewers than the NFL
N.O.R.E. launched "Drink Champs," with DJ EFN, seven years ago. The show was the first of its kind, but not the first rapper podcast. At the time, hip hop media was shaped around "The Breakfast Club" and "Sway In The Morning." This afternoon, "Drink Champs" dropped the latest Kanye West interview, where he had choice words about George Floyd's passing.
N.O.R.E. has become one of the most recognized figures in all of media. However, "Drink Champs" was not his first foray into doing media. During the blog era of the 2000s, N.O.R.E. had the site, 57th Ave. However, the site came to a quiet end, sometime during the 2012-2013 period. After that, N.O.R.E. went back to doing music. When Ja Rule returned from prison, N.O.R.E. greeted him, and also released a single with him and Birdman.
N.O.R.E. would later turn to Ja Rule, along with Fat Joe and Jadakiss to launch "Drink Champs." Seven years later, those guys are frequent guests on the show. In addition, N.O.R.E. has proven to be one of the only people to get Kanye West to sit down to do interviews. A year ago, he had Kanye on "Drink Champs," where he spoke on his and Kim Kardashian's divorce. This year, he got Ye to return. The interview saw Kanye West controversially speak on George Floyd, among other topics. After seeing the views on the video, N.O.R.E. boasted that the Kanye West interview had more views than the football game.
NORE says Kanye interview got more viewers than the NFL