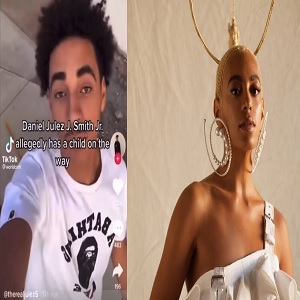 Solange's son Julez is accused of having a child on the way
In 2004, Solange revealed she was pregnant. As Beyonce's younger sister, Solange was a young mother. However, Solange stepped up and made it work. Time has gone by and fans overlook that her son is almost grown. Yesterday, Daniel Julez J. Smith, Jr. made major headlines.
Julez, as he's more commonly referred to, was put on blast in a TikTok video. There is a young woman accusing Julez of getting her pregnant. If Julez really did get this young woman pregnant, Solange is going to be a grandmother. In addition to this, Beyonce will be a great aunt.
While Julez is being put on blast, the people have a lot to say about this. There are the Beyonce/Solange fans who are obsessed with the great aunt/grandmother angle. Then, there are the fans who are seeing the whole situation play out. The people have said that the woman is trolling Julez. They are saying the young woman is lying about being pregnant by Julez. A series of text messages have also hit the internet. Julez, meanwhile, has kept quiet while these accusations have been made.
Solange's son Julez is accused of having a child on the way