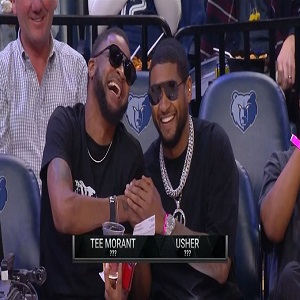 Usher and Tee Morant trend on Twitter for being on TNT's lookalike cam
Usher has been a presence during the Memphis Grizzlies / Minnesota Timberwolves playoff series. Already, Usher has gone viral for holding Ja Morant's daughter. Wait, was it really Usher, or was it Tee Morant? Tonight, Usher and Tee Morant were finally addressed by TNT.
Usher has indeed been attending the Grizzlies' playoff games. While Usher is a part owner of the Cleveland Cavaliers, they haven't made the playoffs since 2018. This year, Usher's Cavs were a good team, though. Usher watched as the Cavs competed in the play-in. They would lose to Usher's hometown Atlanta Hawks.
Usher has been free to go to the Memphis Grizzlies' games since his Cavs got eliminated. Tonight, Usher and Tee Morant were sitting beside each other. The NBA on TNT had some fun with Usher and Tee Morant, putting them on the "lookalike cam." When Usher and Tee Morant noticed they were on the cam, they fell out laughing. Meanwhile, Usher and Tee Morant are both trending on Twitter, as fans are talking about how much they actually look alike.
Usher and Tee Morant trend on Twitter for being on TNT's lookalike cam