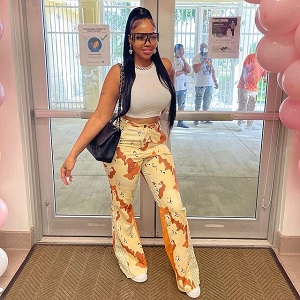 Yung Miami's mother asks fans to pray for her
Yung Miami recently shared a disturbing message on Twitter. Fans expressed concern, after Yung Miami said she was having a mental breakdown. By all accounts, Yung Miami seems to be on top of the world. In addition to being a star in the game, Yung Miami seems to be having fun.
Yung Miami has done more than most will do in a lifetime, in just four years. In 2017, Yung Miami was virtually unknown. Alongside JT, Yung Miami is one half of City Girls, and Quality Control signed them. A year later, Drake featured them on the biggest song of the summer.
Yung Miami adjusted from being one half of a group to being a solo act, when JT went behind bars. During this time, Yung Miami entered a relationship with Southside, and had her second child with him. Not long after, Yung Miami was making appearances with Diddy. Recently, Yung Miami began hosting a talk show on his network, and the first episode saw them speak on their romance.
Yung Miami has her hands in a lot of pots and has for four years. All in all, Yung Miami is likely dealing with burnout. Whatever the case, Yung Miami's Twitter message was disturbing for a lot of fans. As a result, Yung Miami's mother, Keenya, has now spoken out. Via IG Story, Keenya said that her daughter is "really going through it" right now, and she requested prayers from the fans.
Yung Miami's mother asks fans to pray for her